Welcome
Maganey Industries is a supplier to the top shoe and garment prodcuers in the world. Exporting to countries such as Turkey, China, Poland and Spain.
Find out more about Maganey Industries here.
Skins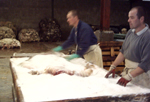 Maganey Industries offers hand or drum salted skins in a variety of types, double face and fellmonger lambs, ewes(sheep), blacks, smalls etc.
Our skins are sourced from the leading lamb producing units in Ireland. Further details about our skins can be found here.
Hides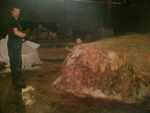 Maganey Industries has a production of over 35,000 hides per annum. Hides can be treated with salt or ice to suit the customers needs.
Further details about our hides can be found here.