Skins
Maganey Industries offers hand or drum salted skins in a variety of types, double face and fellmonger lambs, ewes(sheep), blacks, smalls etc. Our skins are sourced from the leading lamb producing units in Ireland.
All skins are graded to the highest quality by our well trained staff. The skins are salted with 2% boric acid salt to ensure the best possible preservation. All skins can be palleted on plastic or wooden pallets to suit the customers needs.
Maganey Industries has a production of 650,000+ skins and 35,000+ hides per annum. To ensure the quality of our production, our staff are trained in grading and salting. Staff are furthered trained in forklift driving, knife safety and manual handling.
Our skins are sold to the top shoe and garment producers in the world. We export to countries such as China, Turkey, Poland and Spain. This along with our strong relationships with our suppliers, distributors and employees ensures a bright future for Maganey Industries.
Our customers include the top shoe and garment producers in countries such as China, Tirkey, Poland and Spain. We also grade and salt skins on a commission basis.
If you have any further queries, please do not hesitate to contact us.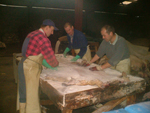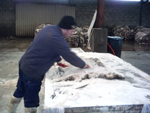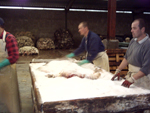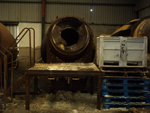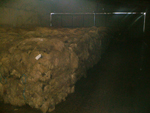 Click image for larger version.